KING OF DREAMS WINE - OFFICIAL PRESS RELEASE
Back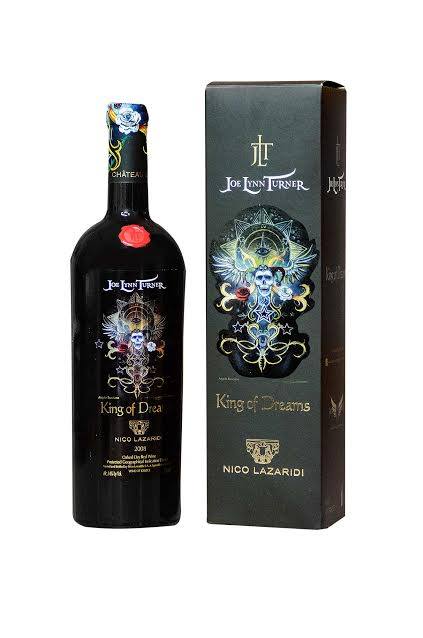 The legendary rock star JOE LYNN TURNER, former vocalist of Rainbow and Deep Purple, and NICO LAZARIDI, the producer of the mythical Magic Mountain, joined their imagination, their experience and their good will so to create something unique.
JOE LYNN TURNER with his inexhaustible energy along with NICO LAZARIDI gave to this new wine the name "KING OF DREAMS" – which comes from a milestone song of the rock music. The theme of the label is created by an artist and a personal friend of Joe, Mr. Angelo Rusciano.
NICO LAZARIDI had wisely managed a specific quantity of a great matured wine, which comes from a remarkable vintage of 2008, having always in mind to create something extraordinary from this. The wine is a blend of Cabernet Sauvignon 50%, Cabernet Franc 40% and Merlot 10%. NICO LAZARIDI followed the classic red vinification method with long extraction. The wine also matured in new French oak barrels for 22 months and then, it remained in the bottle in ideal conditions of a cellar.
The wine has an intense ruby-garnet color. The complex nose accentuates the typical aromas of the three varieties; over mature red and black fruits, like strawberry, black cherry, fig, gooseberry, raspberry and blueberry. The aromas perfectly combined with those ones of the oak barrels, giving at the same time some spicy notes of pepper, vanilla, dark chocolate and tobacco. It has full and velvet body, balanced acidity accompanied with velvet, rich tannins. The relevant intense aromas in the mouth are obvious. The wine has a dynamic character with an elegant, complex and long aftertaste.
Concerts with Joe Lynn Turner will take place in Greece and abroad, in order to support and promote the wine "King of Dreams". Everyone can get informed about them through the social media of the NICO LAZARIDI Wine Club but from the artist's accounts too.(www.facebook.com/NicoLazaridiWinery - www.facebook.com/joelynnturnerofficial).
The wine is going to be available worldwide, while you can find it in some selected liquor stores in Greece as well. For more information, please, contact VINALIA SA tel. +30 2102586002, info@vinalia.gr, or the record company Rock of Angels, tel. +30 2392057560 https://www.music-megastore.gr/ and the NICO LAZARIDI Wine Club, tel. +30 2521082050, wineclub@nicolazaridi.gr .
The following link where people can order directly the King of Dreams on our site:
http://www.music-megastore.gr/shop/clothes-stuff/wine/joe-lynn-turners-king-of-dreams-signature-wine...